Sightseeing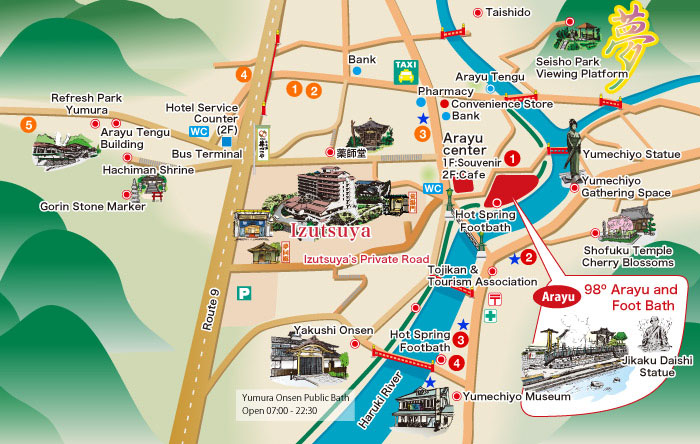 Restaurant
---
Ajisatoya Sushihei (Sushi)
Shoraien (Chinese Restaurant)
Toiro (Ramen & light meal)
Ebisuya Shokudo (Izakaya)
Tajima Beef Restaurant "Kaede" (Steak)
Gift Shop
---
Tochisen (Souvenir)
Hiyokkoya (Charcoal BBQ Skewer Grills)
Oba cafe yumuraya (Souvenir, Cafe)
Hamada (Tajima beef)
---
Machikado Gallery
Spots in Town
Arayu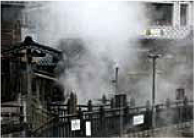 Since the hot spring's discovery in the 9th century, "Arayu" has been a place for many to cook their eggs and vegetables in. It is Japan's hottest hot spring at 98 degrees celcius.
The footpath built along the river, "Fureai no yu" was renewed in December of 2014.
Built in connection with celebrities and cultural leaders, you can interact with them as well.
---
Experience the history of Yumura from boiling an egg in the Arayu to enjoying a drink while soaking your feet in the footbaths.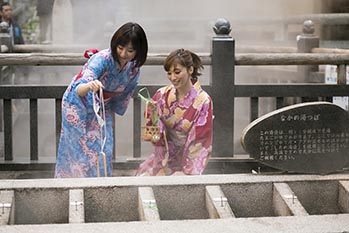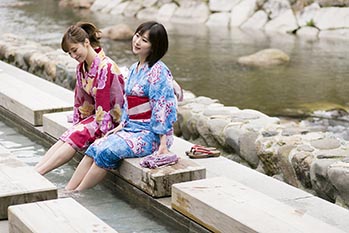 "Arayu Tamago" are eggs boiled in the 98ºC hot waters of Yumura's arayu and is a specialty of Yumura Onsen. Place the egg into a sack and lower it into the hot waters, after letting it soak for 10-13 minutes pull it out and enjoy the freshly boiled egg. There is also a footbath called "Fureai no Yu" along the Haruki River, where you can enjoy views of the town while soaking your feet in naturally flowing hot spring waters.
You can also experience drinking the hot spring water at the yutsubo located beneath the statue of Jikaku Daishi, the founder of Yumura Onsen.
Yumechiyo Statue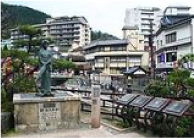 The statue is of Yoshinaga Sayuri who performed in "Yumechiyo Diary", a NHK drama that aired in the 1980s. The show was filmed in Yumura Onsen, using Arayu. The stand was a gift from Hiroshima. With a view overlooking Arayu, it is a great photo spot that you can use to commemorate your trip.
Shofuku Temple Cherry Blossoms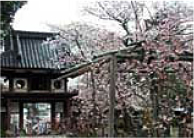 Overlooking the Arayu onsen source, there is a Tendai temple on a hill featuring a Yumechiyo Jizo Bodhisattva and Shofuku Cherry Blossom Tree. The blossoms are a natural monument in the town and have a double blossom, with fifty to a hundred blossoms and a double pistol in the flower. The blooming is later than the Yoshino cherry blossoms and can be seen every year from mid to late April.
Tojikan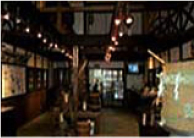 This museum displays some of the explanations of the ancient art of sake making and the Tajima doji. A guide can tell you from first hand experience all about the wonders of Japanese sake.
---
Nihonshu, Japanese sake tasting experience.
At the Tajima Sake Museum you can "experience the taste of Sake" and try traditional sakes that are mementos from Yumura's winters. You can have a sake tasting when you bring a "sake tasting ticket" voucher from a local ryokan and purchase a memento sake cup with the town's name on it.
Hachiman Shrine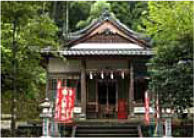 The Hachiman Shrine is a part of Otokoyama Iwashimizu Hachiman and is located along route 9. It is one of 7 of these shrines in Tajima. It is a prestigious shrine that is built in veneration to the guardian of human life and good luck. A gorinto style stone pagoda, there is one of Japan's three old towers and a "Couple Cedar" poem that is written by the "Yumechiyo Diary" creator.
Yumechiyo Museum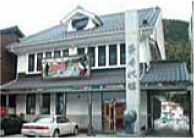 Featuring a Showa era view of the town, entering this museum is like going back in time. Using the NHK drama "Yumechiyo Diary" as the inspiration, there are many set pieces, props, and explanations about the actors. You can buy an exclusive stationary at the reception area and send it at the museum to receive a "Yume (dream) letter" a year later.
---
Letter to your cherished person in one year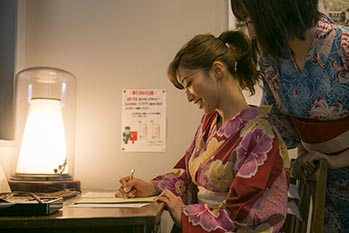 Like a time capsule where you can have a letter sent to yourself, friend or cherished person one year later. Wouldn't you like to send a letter with words of dreams, hopes, your feelings, and gratitude one year into the future?
"Hidden hearts of happiness", find hearts hidden around the city.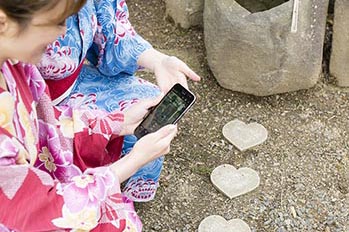 Search for heart-shaped objects while strolling through the hot spring town. Take a photo of 5 objects with your cell phone or camera and take them to the Yumura Onsen Tourism Assocition and you can receive a present. There is also a superstition that says you will find love when you find a heart!
Landmark Yumemoji Illusion Yumura Onsen Light Fantasy
---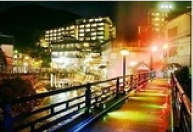 The first onsen area light up in Japan, Yumura Onsen's light up was designed by Motoko Ishii, who also designed Himeji Castle and Akashi's Kaikyo Bridge light up.
The Haruki river flowing through the onsen town and the Arayu area are lit up, showing off the beautiful scenery with skilfully crafted light design.
Overlooking the town, Kiyamasu Park is lit up with the Japanese character for dream, 夢, three times every hour. You can see the beauty of every season.
Extra:Taiun Temple's Weeping Cherry Tree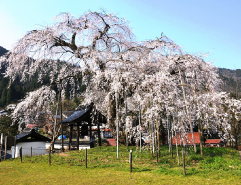 On the grounds of Taiun Temple, there is a Hyogo prefectural natural monument, the Shidare Sakura (weeping cherry tree). It is around 250 years old, 13 meters high, and 5.25 meters in diameter. It is the biggest of its kind in western Japan. You can see the blossoms from mid to late April. Shidare Sakura is also called Omaki Sakura, meaning winding cherry tree.
Recommended sightseeing spots around Yumura Onsen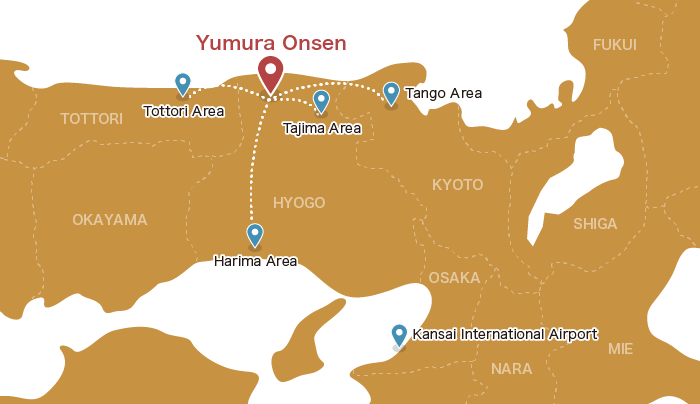 Tajima Area
Tajima Daibutsu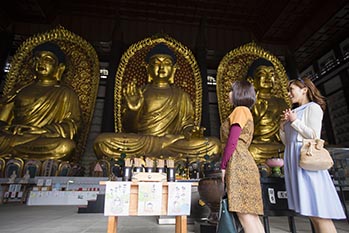 One of the world's largest wooden Buddha carvings and gilded statues. Three Buddha statues are Shaka Nyorai at the center, Amida-nyuorai Buddha on the left, and Yakushi Buddha on the right. The statues were made mainly in China by 20,000 Chinese sculptors & artists over the course of three years. There are 1,320,000 gold leafs pasted onto the statues.
Amarube Iron Bridge "Sky Station" & Crystal Tower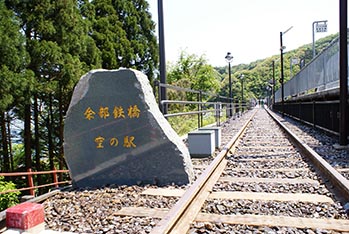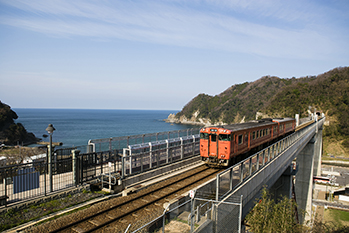 The observation facility "Sky Station" is located about 40 meters up, there is a bench where you can sit and look over the Sea of Japan and a peep window at your feet. The glass-enclosed elevator, "Crystal Tower", is 47 meters high and brings you up to a spectacular view of the Sea of Japan in just 45 seconds.
Hyogo Park of the Oriental White Stork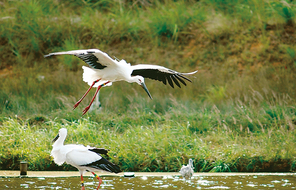 Located in Toyooka City, this is Japan's largest habitat for the oriental white stork, a national natural treasure. This facility protects, breeds, and reintroduces oriental white storks back into the wild. At the park you can observe both storks that have been breed in captivity and wild storks while taking a stroll through the marshlands and enjoying the landscape.
Kinosaki Marine World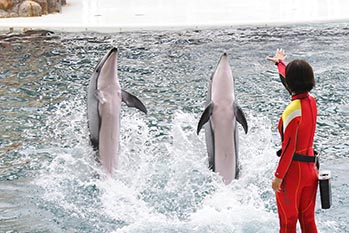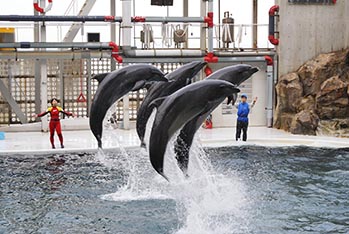 An aquarium with various attractions located on the Hiyoriyama coast. You can try fishing and see several sea life exhibitions, ride an attracting that simulates diving, see dolphin and sea lion shows, and interact with dolphins.
Takeda Castle Ruins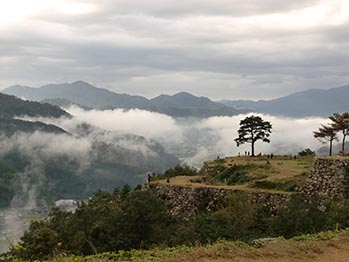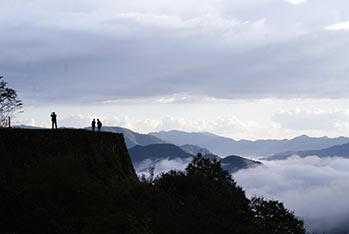 The site of this mountain castle's ruins wrapped in a sea of clouds is reminiscent of a castle floating in the sky, this is how the castle ruins got its nickname "Castle in the Sky". It is also known as the "Machu Picchu of Japan". Many people come to see the mesmerizing landscape.
Tottori Area
Tottori Sand Dunes & Sand Art Museum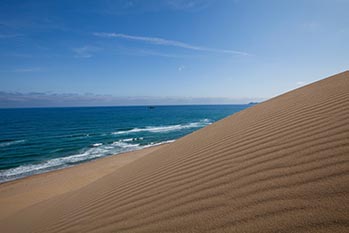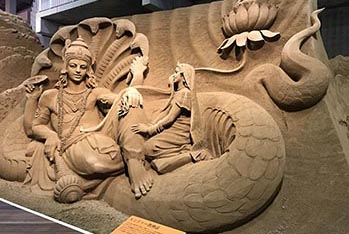 The sheer size of the "Tottori Sand Dunes" will have you at a loss for words! A beautiful natural wonder gifted from the sand, wind and sea. Wind patterns that appear in the sand are a magical sight to see. At the dunes you will also find various activities including camel rides and sand sports. The nearby Sand Art Museum is the world's first museum dedicated to exhibiting sand sculptures. Every year, top-level sand sculptors from around the world come here to create delicate, but powerful works of art. Each year presents a different theme.
Uradome Coastal Excursion Boat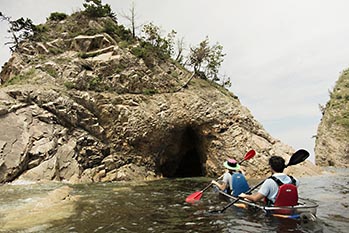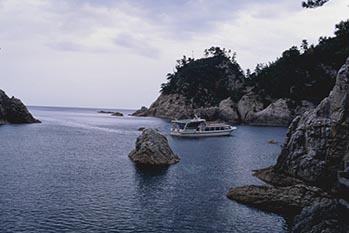 explore the most beautiful scenery of the San'in Coast from the sea. See spectacular landscape carved by the rough seas, winds and snows of the Sea of Japan. View chalky white islands floating in crystal clear waters and more.
Nationally Designated Important Cultural Property Jinpukaku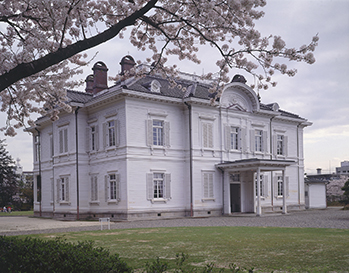 Renowned as one of the finest Meiji Western-style architectures, the two-story Western-style building with white wooden roof tiles based on the French-style Renaissance style is designated as an important cultural property of Japan. It is also known for its elegant exterior and beautiful Japanese garden. Inside the museum there is information about the Ikeda Family, a Tottori feudal clan, on display.
Other Areas
〈Tango〉Amanohashidate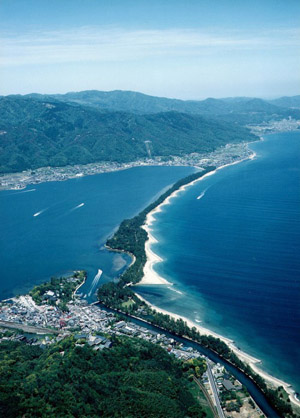 Amanohashidate, located in Miyazu Bay in the Sea of Japan, is one of the most famous scenic spots in Japan. The sandy beach is about 20-170m wide and 3.6km long. It is a rare terrain with about 5,000 pine trees. It is named "Amanohashidate" because it looks like a bridge to the heavens.
〈Harima〉 Himeji Castle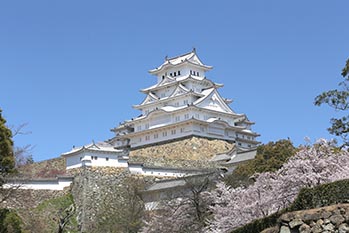 Himeji Castle, a national treasure, is a UNESCO World Heritage site. It is also called "White Heron Castle" because of the beauty of its white walls and the elegant appearance of the castle's foot. World-renowned wooden castle architecture, armor and daily necessities are on display in the castle tower. Nearby is Kokoen, a Japanese garden overlooking the castle. Nine stroll able gardens with a total area of 3.5 hectares, built around the remains of samurai residences.